Medical History:
A 75-year-old female patient with progressive vision loss in both eyes was examined in our clinic.
Diabetes mellitus (-) Systemic hypertension (-) Family history (-) Smoking (-)
Examination Findings
Best corrected visual acuity was 3/10 in both eyes. Intraocular pressure was 18 mmHg in both eyes. Anterior segment examination was unremarkable. Fundus examination revealed vitelliform, circular, foveal lesions in both eyes.
Color fundus photographs show bilateral, vitelliform, circular, foveal lesions (Figure 1).
Fundus autofluorescence imaging shows central hypoautofluorescence surrounded by a ring of hyperfluorescence (Figure 2).
SD-OCT imaging shows a subretinal hyperreflective dome-shaped lesion (Figure 3).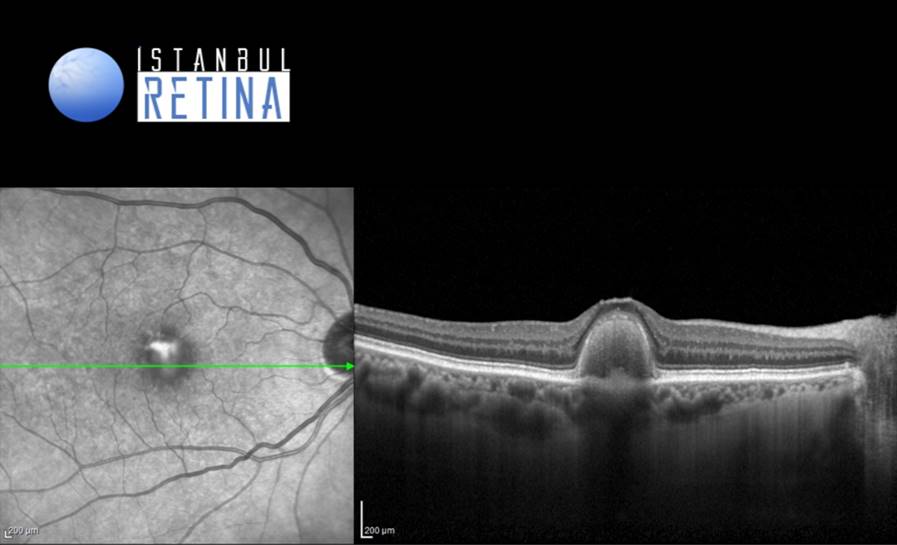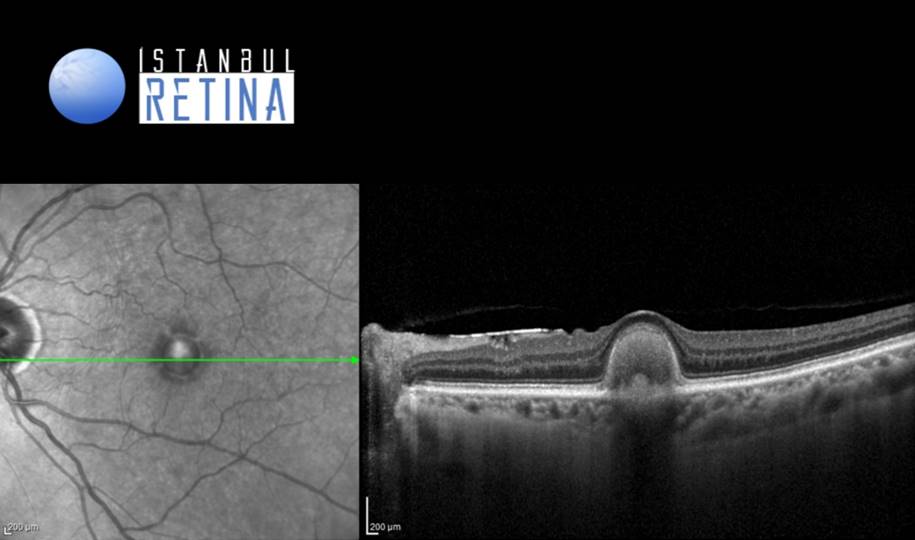 Diagnosis
Adult-onset Foveomacular Dystrophy
It was first described by Gass in 1974. An autosomal dominant inheritance is suggested, however adult-onset foveomacular dystrophy can also be sporadic without evidence of a familial inheritance pattern. Mutations in the genes PRPH2, BEST1, IMPG1 and IMPG1 have been found in some individuals with adult-onset foveomacular dystrophy. There is an abnormal accumulation of lipofuscin. As a result, the RPE layer is separated from the photoreceptor layer by hyper-reflective material. Adult-onset vitelliform dystrophy is divided into four distinct stages. They are: vitelliform, pseudohypopyon, vitelliruptive and atrophic. As the disease progresses, ellipsoid zone damage and vision loss occur.
Differential Diagnosis
Best vitelliform macular dystrophy, Stargardt disease, central areolar choroidal dystrophy
Treatment
Currently there is no approved treatment for adult-onset foveomacular dystrophy.
References:
Querques G, Bux AV, Prato R, Iaculli C, Souied EH, Noci ND. Correlation of visula function impairment and optical coherence tomography findings in patients with adult-onset foveomacular vitelliform macular dystrophy. Am J Ophthalmol 2008;146:135-142. https://pubmed.ncbi.nlm.nih.gov/18439561/
Querques G, Forte R, Querques L, Massamba N, Souied EH. Natural course of adult-onset foveomacular vitelliform dystrophy: a spectral-domain optical coherence tomography analysis. Am J Ophtalmol 2011;152:304-313. https://pubmed.ncbi.nlm.nih.gov/21664595/
Chowers I, Tiosano L, Audo I, Grunin M, Boon CJF. Adult-onset foveomacular vitelliform dystrophy: a fresh perspective. Progress in Retinal and Eye Research 2015;47:64-85. https://pubmed.ncbi.nlm.nih.gov/25681578/