Medical History:
An 84-year-old female patient with a history of dry age related macular degeneration in both eyes presents for an examination complaining of decreased vision.
Diabetes mellitus (+)
Systemic hypertension (+)
Family history (-)
Smoking (-)
Trauma (-)
Examination Findings
Best corrected visual acuity was 3/10 in the right eye and 3/10 in the left eye. Intraocular pressure was 14 mmHg in both eyes. Anterior segment examination revealed PC-IOL in both eyes. Funduscopic examination revealed bilateral retinal pigment epithelium changes, drusen, and yellowish deposits in the macula (Figure 1).
Fundus autofluorescence showed intense hyper-autofluorescence of the vitelliform material (Figure 2).
SD-OCT revealed elevation of the retinal pigment epithelium (RPE) and hyper-reflective lesion between the photoreceptor and RPE in both eyes (Figure 3).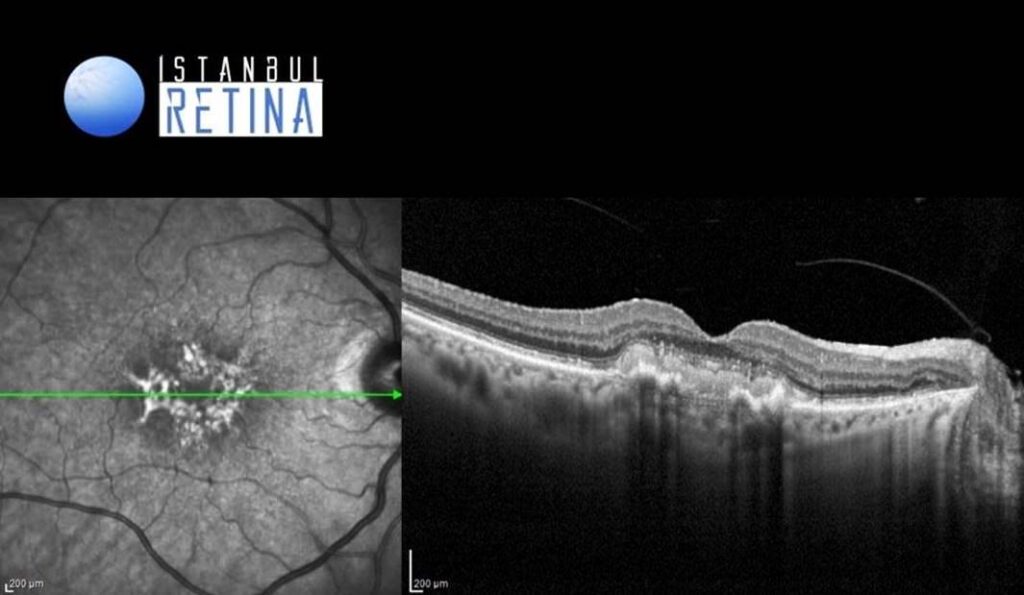 .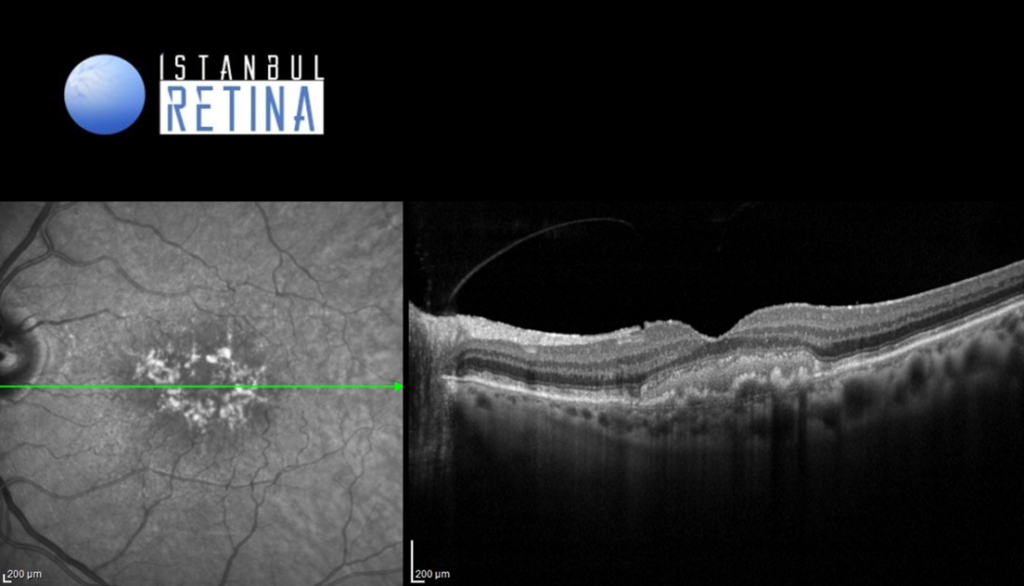 .
Diagnosis
Acquired Vitelliform Lesion in the Setting of Age-Related Macular Degeneration
Acquired vitelliform lesions are lesions found in a variety of macular conditions including age related macular degeneration. They can masquerade as a choroidal neovascular membrane leading to unnecessary treatment. Individuals with acquired vitelliform lesions in the setting of age-related macular degeneration have an equal gender distribution and commonly present with good visual acuity. There is an inverse correlation of the relationship between visual acuity and the integrity of the ellipsoid zone. In the setting of age-related macular degeneration, eyes with acquired vitelliform lesions have a higher risk of developing macular neovascularization.
Differential Diagnosis
Inherited vitelliform dystrophy, choroidal neovascular membrane
Treatment
Patients with acquired vitelliform lesions and dry age-related macular degeneration should be followed per AREDS2 management recommendations. If macular neovascularization occurs intravitreal anti-VEGF treatment is recommended.
References:
Nano E, Raposo F, Greenberg PB, Savoie B. Acquired Vitelliform Lesions in the Setting of Nonexudative Age-Related Macular Degeneration. CRO Journal 2022