Medical History:
A 74-year-old female patient with a history of bilateral age related macular degeneration presents complaining of decreased vision in her left eye.
Diabetes mellitus (+)
Systemic hypertension (+)
Family history (-)
Smoking (-)
Trauma (-)
Examination Findings
Best corrected visual acuity was 8/10 in the right eye and 1/10 in the left eye. Intraocular pressure was 17 mmHg in both eyes. Anterior segment examination revealed PC-IOL in both eyes. Fundoscopic examination revealed drusen in the right eye and retinal pigment epithelial (RPE) tear in the left eye (Figure 1).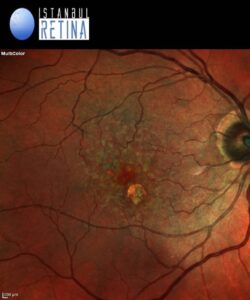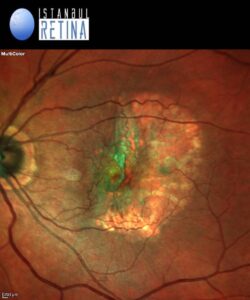 On fundus autofluorescence RPE tear appeared as a well-demarcated area of hypo-autofluorescence due to absent RPE (Figure 2).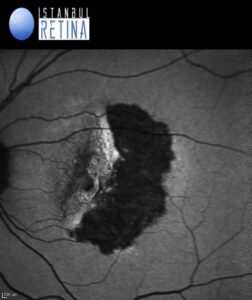 Optical Coherence Tomography (OCT) revealed discontinuity of the hyperreflective RPE band with a free edge of RPE scrolled up overlying the pigment epithelial detachment (Figure 3).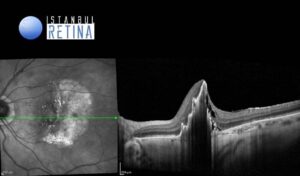 Diagnosis
Retinal Pigment Epithelium Tear
Retinal pigment epithelium tears represent a serious complication in patients with neovascular age-related macular degeneration (AMD) and frequently results in profound loss of central vision. The most common cause of a RPE tear is vascularized pigment epithelial detachment  (PED). Spontaneous tear rate of vascular PEDs of 10-13% has been reported. Large PED basal diameter and vertical height are correlated with an increased risk of developing an RPE tear. OCT is the most valuable diagnostic tool for RPE tear. The rolled RPE has irregular contour and causes a hyperreflectivity with an intense back-shadowing masking the choroid. The area of RPE loss may demonstrate an increased depth signal due to the absent RPE monolayer. The neurosensory retina appears intact over the tear, with or without subretinal fluid.
Differential Diagnosis 
Retinal pigment epithelium aperture, RPE atrophy
Treatment
Patients who have an RPE tear must continue to have close follow up and anti-VEGF treatment in select cases.
References:
Ersoz MG, Karacorlu M, Arf S, Sayman Muslubas I, Hocaoglu M. Retinal pigment epithelium tears: Classification, pathogenesis, predictors, and management. Surv Ophthalmol. 2017;62:493-505. https://pubmed.ncbi.nlm.nih.gov/28336128/