QUESTION:
A 10-year-old boy with neurofibromatosis type-2 presented with low vision in the right eye. BCVA was 20/200 OD and 20/20 OS. Looking at the multicolor and OCT images, could you describe the finding on the OCT image and determine the diagnosis?
ANSWER:
Thanks to everyone who showed interest in the section of question of the month and answered the question. In this month's question, a 10-year-old boy with neurofibromatosis type-2 with low vision in the right eye was presented. Description of the finding on the OCT image and determination of diagnosis were asked.
The answer to the question is '' Retinal Hamartoma/ Flame-Shaped ERM''. As a result of the lottery drawn among those who answered the question correctly, Gökhan Çelik won this month's book prize. Congratulations to him.
SD-OCT revealed ERM in most patients with neurofibromatosis (NF2), therefore it may be a valuable exam for evaluating NF2 patients. Epiretinal membranes in NF2 has unique features, distinguishing it from idiopathic ERM or membranes associated with other diseases. It was suggested that flame-shaped ERM seems to be specific for NF2 and that ERM can be considered as an important diagnostic sign of NF2.
Waisberg V, Rodrigues LOC, Nehemy MB, Frasson M, Miranda DM. Spectral-Domain Optical Coherence Tomography Findings in Neurofibromatosis Type 2. Invest Ophthalmol Vis Sci 2016 57(9):262-7
https://pubmed.ncbi.nlm.nih.gov/27409481/
---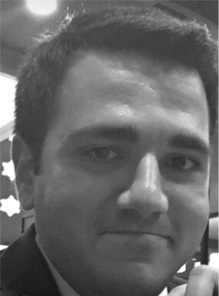 Gokhan CELIK, MD
Ankara City Hospital
Dr. Gokhan Celik is graduated from Gazi University Faculty of Medicine in 2017. He is currently continuing his recidency in Opthalmology at the Ankara City Hospital. He is interested in Retina and Neuro Ophthalmology. 'Evaluation of Risk Factors and Treatment Results in Patients with Penetrating Keratoplasty' and 'Visual and Topographical Outcomes Following Accelerated Corneal Crosslinking in Progressive Keratoconus' are his main articles.