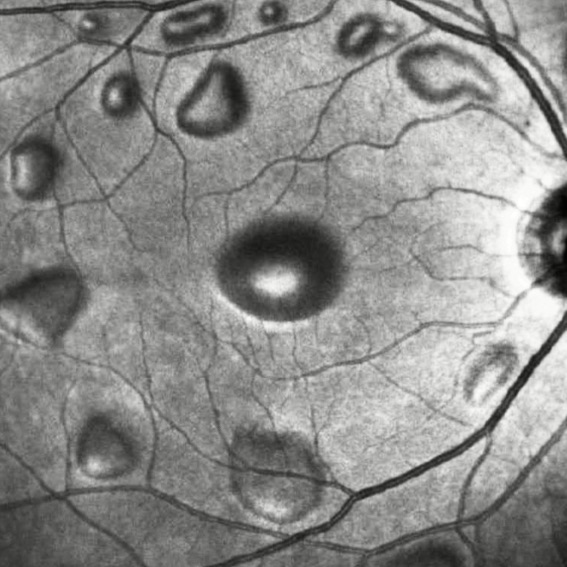 Thanks to everyone who showed interest in the section of question of the month and answered the question. In this month's question, determine the diagnosis by looking OCT and IR images in a male patient with cutaneous melanoma was asked.
The answer to the question is 'BRAF/MEK Inhibitor-Associated Retinopathy'. The result of the lottery among those who answered the question correctly, the winner of this month's book prize is Melih Ustaoğlu, MD. Congratulations to him.
Mutations in BRAF causes dysregulated activation of MEK, promoting cellular proliferation and cancer through the well-described RAS-MEK-ERK1/2 pathway. Common ophthalmologic side effects of BRAF/MEK inhibitors include chorioretinopathy and exudative retinal detachment.
Multiple case reports or series have reported the development of sub-foveal neurosensory retinal detachment occurring within a few hours to 4 weeks of starting treatment. MEK inhibitor-associated retinopathy (MEKAR) has been documented to be bilateral, multi-focal, with fluid typically localizing between the RPE and the interdigitation zone, most frequently in the central macular region. However, patients can present with lesions outside the posterior pole, most commonly around the arcades.
Corradetti G, Violanti S, Au A, Sarraf D. Wide field retinal imaging and the detection of drug associated retinal toxicity. Int J Retin Vitr 2019; 5:26.
https://journalretinavitreous.biomedcentral.com/articles/10.1186/s40942-019-0172-0
Melih Ustaoğlu, MD
University of Louisville, Louisville, KY, United States
Dr. Melih Ustaoğlu is graduated from Gazi University Faculty of Medicine in 2011. After completing his residency in Ophthalmology between 2012-2016 at the Haseki Research and Training Hospital, he started to work at the University of Louisville in 2021, as a vitreoretinal fellow. He is interested in the retina. 'Ophthalmic, systemic, and genetic characteristics of patients with Wolfram syndrome, Demographic Characteristics and Visual Outcomes of Open Globe Injuries in a Tertiary Hospital in Istanbul, Turkey and Discriminating performance of macular ganglion cell-inner plexiform layer thicknesses at different stages of glaucoma"  are his main articles.